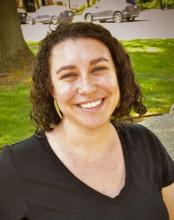 Associate Director for Strategic Partnerships and Initiatives
Bio
Shana Schoem (she/her/hers) is the associate director for strategic partnerships and initiatives at The Program on Intergroup Relations. Her work involves envisioning, creating and facilitating high-impact dialogic programs for faculty and staff at the University of Michigan and across the field of higher education nationally and internationally. She has over 20 years of experience as a facilitator and has been regularly developing social justice education curriculum for nearly a decade.
Some of the programs Shana leads include:
Shana is published for her work on Intergroup Dialogue and dialogic practices in An Introduction to Intergroup Dialogue (Cognella 2019); Graduate Student Development and Preparation in the 21st Century (New Directions in Teaching and Learning Series, Jossey-Bass 2020) and a forthcoming intergroup dialogue facilitation reader.
Shana holds a BA in women's studies (now women's and gender studies) and an executive coaching certification from the University of Michigan; and a JD from the University of Miami. She is passionate about relationship and community-building for social change, raising her kids, art and gardening.
 
Educational background
BA in women's studies, University of Michigan
Executive coaching certification, University of Michigan
JD, University of Miami
Recent publications
Contact