Column 1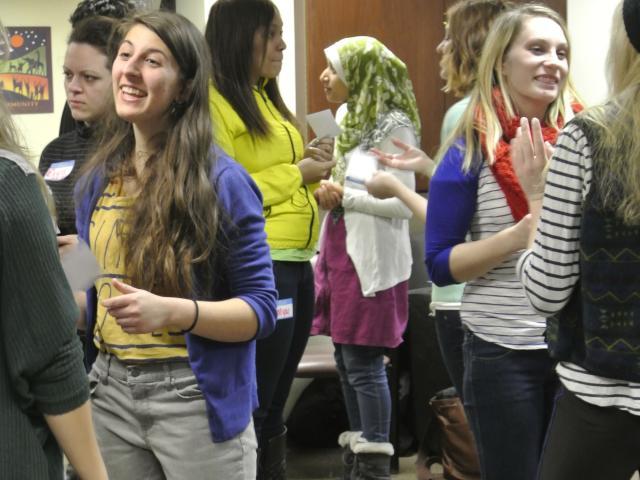 CommonGround is a student-led, student-serving program—for student organizations, residence halls, Greek life, academic courses, and other student communities—to nurture social identity development and enhance group dynamics.
Through our 1.5-3 hour interactive workshops, trained graduate and undergraduate facilitators guide your group through a series of activities and discussions, raising understanding of social identity, prejudice, stereotyping, power, privilege, and oppression—and building a community of social justice advocates on campus.  

 
Requesting a CommonGround workshop
We are currently accepting requests for winter 2024. Please carefully review eligibility and FAQ information before submitting a request.
Eligibility
CommonGround is a program by students and for students. CommonGround does not provide faculty or staff participant workshops, but faculty and staff may request workshops for students in courses or student organizations they advise or supervise. Read more eligibility answers in our FAQs.
Topics
CommonGround workshops are designed to cover a variety of social identity topics and can be tailored to fit the needs of your community. These topics generally fall under the following categories and if you have thoughts on combining topics or including others not listed, you will have an opportunity to discuss these possibilities with a workshop manager during your intake meeting. 
Participants are engaged in activities designed to encourage thinking around norms and expectations in their own communities and those that exist in others. Dialogues in this category generally focus on how our presence may impact different communities and are oriented towards group that do 'helping' or service oriented work. 
Designed to be an introduction to social identity and its influence up on us, participants are introduced to social identity categories and begin exploration into the social identities that they hold. 
Slightly more advanced than Social Identity 101, this module is focused on acknowledging the role of social identity within group dynamics. Participants engage in thinking and skill building around bringing identity into conversations and addressing conflicts related to social identity. 
With the understanding that some identities are socially prioritized over others, consciously or not, this module seeks to engage participants in thinking about and practicing on how to operate in solidarity with those identities that do not receive preference
Deepening consideration of social identity and its influences, participants spend time not only understanding how to mitigate and resolve situations that may be damaging, but also how group dynamics may create preference for some identities over others as well as engaging in thinking on how to reduce these effects. 
This activity is specially designed to understand how various social identities are affected on a societal level in our country and challenge ideas of absolute social equality and ability to attain success in our current societal structure. 
This module is geared towards groups that have more experience in social justice work. Participants are prompted in high levels of thinking on their own identities, communicating across identities, understanding power and oppression, and how they engage with these topics with others who are at differing levels of understanding social justice complexity.
Details and FAQs
Read our FAQs to learn more about process, scope, and how to know if a CommonGround workshop is right for your group.
Our team
The programming team oversees the development of CommonGround's curriculum, training and onboarding of facilitators, coordination of workshops, and curriculum. Learn more about our programming team.
Column 2
COURSES & STUDENT PROGRAMS