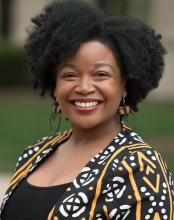 Associate Director
Bio
Christina S. Morton (she/her/hers) is an associate director of The Program on Intergroup Relations. In her role, she provides strategic leadership and administrative support toward advancing IGR's mission as well as teaches courses focused on the training and development of peer educators in dialogue facilitation. Her research explores diverse students' experiences with and meaning making of social justice education as well as how cultural resources, such as spirituality, contribute to the success of Students of Color in STEM fields. Christina creatively blends art and science as she disseminates her work through poetry and storytelling.
Christina earned her doctorate in higher education from the University of Michigan, her master's in higher education from N.C. State University, and her bachelor's degree in industrial and operations engineering from the University of Michigan. She has also completed training as a National Center for Institutional Diversity Postdoctoral Research Fellow at the University of Michigan. Christina has professional experience in academic and student affairs, previously serving as an academic success coach and residence life director.
 
Educational background
PhD in higher education, University of Michigan
MA in higher education, N.C. State University
BA in industrial and operations engineering, University of Michigan
 
Recent publications
Morton, C. S. (in press). When the well runs dry: A cautionary critical race counterstory. Philosophy and Theory in Higher Education.
Morton, C. S. (2023). Patchwork: Methodological and theoretical bricolage in STEM education research. Journal of Women and Minorities in Science and Engineering 29(1), 1-19. https://doi.org/ 10.1615/JWomenMinorScienEng.2022036546
Fike, K. J., Morton, C. S., Thorne, K. M., & Mattis, J. S. (2022). The power of faith: Racial discrimination and religiosity among Black American men. Cultural Diversity and Ethnic Minority Psychology. https://dx.doi.org/10.1037/cdp0000574
Okello, W. K. & Morton, C. S. (2022). Speaking our imaginings into existence: Poetry as a contestation of Black erasure in academia. Journal of Diversity in Higher Education. https://doi.org/10.1037/dhe0000411
Morton, C. S. (2021). Sistahs in STEM: A critical race counterstory uplifting Black women's experiences in STEM. Journal of Negro Education. 90(3), 306-321.
Morton, C.S. (2021). Unbroken: A critical autoethnography of a Black woman's doctoral experience during BLM. Journal of Effective Teaching in Higher Education 4(2), 65-83.
Grim, J. K., Kim, H., Morton, C. S., DeMonbrun, M. (2021). The socialization for teaching: Factors related to teaching career aspirations for doctoral students of Color. International Journal of Doctoral Studies, 16, 449-467. https://doi.org/10.28945/4805
Morton, C. S. (2020). (Re)centering the spirit: A spiritual Black feminist take on cultivating right relationships in qualitative research. Journal of College Student Development 61(6), 765-780.
 
Contact