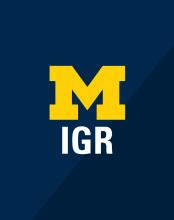 Program Manager, CommonGround
Bio
Meaghan Wheat (she/her/hers) is the program manager for CommonGround at The Program on Intergroup Relations. She supervises a team of undergraduate and graduate students who plan, develop, and facilitate requested workshops on social identity, communicating across identities, power and oppression in groups, entering communities, and allyship across campus. She also supports IGR's Summer Youth Dialogue program. Meaghan holds a BA in psychology and political science, an MSW, and an MA in higher education from the University of Michigan.
Recent publications and presentations
As author/presenter or co-author/presenter
Doty, J. and Wheat, M. (2023, January). " It Starts With Me: Advancing through Practice the Dream of Dr. Martin Luther King" [Conference presentation]. U-M Reverend Dr. Martin Luther King Jr. Symposium. Ann Arbor, MI.
Hernandez, E., Slosberg, D. A., Vargas-Leon, C., Wheat, M. (2023, June). "The hidden work of community building for conflict" [Conference presentation]. Difficult Dialogue National Resource Center 2023 conference. San Jose, CA.
Kirpes, M., Vargas, C., Wheat, M. "Students Becoming, Belonging, and Blooming through IGR Involvement" [Conference presentation]. 2023 ACUM Advising Symposium: Becoming, Belonging and Blooming, University of Michigan, filmed May 4, 2023. Video of presentation, 1:04:42, https://drive.google.com/file/d/1Kbs1mD6Q9bLCzksnesqujHSRnzdzhfV0/view
Slosberg, D., Vargas-Leon, C., Wheat, M. (2022 December 6). "What is it? Why is it important? And how can and do you use it?" [Conference presentation]. Student Life Professional Development Conference. Ann Arbor, MI.
As contributor
Rich Kaplowitz, D., Hicks, S. (Forthcoming). Facilitator Reader. Teachers College Press.
Contact
Contact me about
CommonGround program
Dialogue opportunities for students and student organizations